Precisely Purple Photo Competition
Selfies, action shots, portraits or nature?  There is purple fever happening and we want your photos!!  The ever popular Precisely Purple photo competition is on again.  
Closing date: midnight 30 June 2018
1st Prize: $100 Visa Pre-paid gift card
Runner-up: $50 Visa Pre-paid gift card
For the full competition details and how to enter: Click here
WEAAD Toolkit  
BRISBANE'S GOING PURPLE  
Check out beautiful Brisbane city on Friday evening for the buildings and facilities that have been lit up purple to support World Elder Abuse Awareness Day on June 15.  Please share your photographs with us, or enter them in our Precisely Purple Photographic competition.
Qld Parliament House
Story Bridge
Victoria Bridge
Kurilpa Bridge
Brisbane City Hall
King George Square
Redacliffe Square sculpture balls
Sandgate Town Hall
Brisbane Treasury Casino
Brisbane Tropical Dome Botanical Gardens
Wheel of Brisbane
Wickham Terrace Car Park Architectural Wall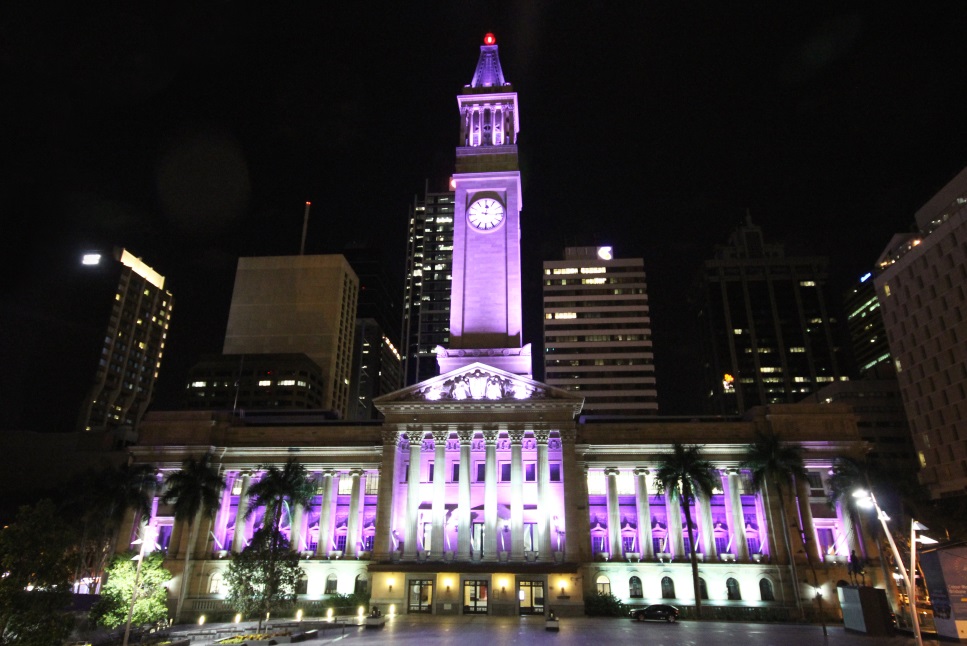 Our sincere thanks go to ...
Treasury Brisbane Casino
Wheel of Brisbane,
Brisbane City Council,
Dept of Housing and Public Works,
Dept of Communities, Disability Services and Seniors
for their ongoing support of World Elder Abuse Awareness Day each year on June 15.
On April 9, ADA Australia, in partnership with Legal Aid Queensland, launched My Rights Qld

: 
a free online tool providing information for Queenslanders with disability.
My Rights Qld is a simple, one-stop-shop for information that supports people to better understand and exercise their rights. It covers a wide range of topics including the NDIS, substitute decision-making, health, mental health, housing, discrimination and much more.
ADA Australia identified a resource gap for people with disability trying to navigate Queensland systems to find help to protect their rights. Information about how to seek help, or complain about issues impacting them, is often scattered across multiple websites and written in jargon-heavy language.
To address this, an online resource full of easy-to-access information was created to:
help streamline the pathways for people with disability; and

help Queenslanders resolve issues they may be having.
Accessibility continues to be one of the most common barriers for people with disability.
My Rights Qld is accessible from a smart phone, tablet or computer and can be found at http://www.myrightsqld.com.au.
---
National Advanced Care Planning Week
Plan for tomorrow | Live for today
Putting a plan in place is about being heard even if you were unable to speak for yourself. Start the conversation with your friends and family about what you value in your life.
If you were unable to speak for yourself, who would you want to speak for you? And more importantly, what health care decisions would you want them to make? Between 16-22 April this year, we're encouraging all Australians to discuss their future health care preferences with their loved ones.
Please follow the link below:
https://www.advancecareplanning.org.au/acpweek/how-to-get-involved  
---
 Talk about the future, plan for the future
 --- more information below about Enduring Powers of Attorney ...
---
  Information for Attorneys - Enduring Power of Attorney
In Queensland people have the option of creating a legal document called an Enduring Power of Attorney to nominate others to act on their behalf and make decisions for them if they are unable.  These decisions may include personal, health or financial decisions, which may be simple or complex.
The role of Attorney can be confusing.  It is recognised there has been a lack of education specifically developed to assist Attorneys to understand their legal duties and responsibilities.
To make it easier for Attorneys to act appropriately in their role as decision maker, ADA Australia with the support of the Queensland government have created resources.
ADA Australia in consultation with a broad range of stakeholders and funding from the Queensland Government's Department of Justice and Attorney General. The resources can assist Attorneys to understand the EPOA document, any terms and when and how to make decisions for another.  It can also help support those who may be considering agreeing to the role of becoming someone's Attorney, to understand more about the role and what will be required of them should the EPOA become active.
 Please follow the link below:
https://adaaustralia.com.au/education/enduring-powers-of-attorney/
---
Information for Principals - Enduring Power of Attorney
The Ageing Diversely videos have created a means to generate conversations about 'planning for the future' for culturally and linguistically diverse communities. The videos produced in English, Mandarin, Italian and Amharic are currently viewable via the UnitingCare Community YouTube page. The Auslan videos are available via the Deaf Services Queensland YouTube page. We are very happy for you to utilise the videos however you wish, including the English version.
Thank you to the Public Trustee, The Queensland Government, CO.AS.IT, Cathay Community Association, Jeta Gardens and the many other services who supported the Conversation Café video series. A particular thankyou to Multicultural Communities Council Gold Coast who also provided a magnificent filming location.
  Please follow the link below:
https://www.youtube.com/channel/UCFtTahdJaGGkWyz0URMhXTg
---
 2016-2017 EAPU Year in Review ... coming soon
---
2015-2016 EAPU Year in Review
The report provides an overview of the calls and picture of elder abuse that came through the EAPU Helpline. Statistics in this report are from callers to the helpline and cannot be generalised to the greater community, however they do describe what older people are experiencing and they types of risk factors that can leave someone vulnerable to elder abuse and mistreatment.
---
Domestic Violence Videos by Queensland Courts
Queensland Courts have published a series of videos explaining the court process for making domestic violence orders.
If you are applying or responding to a domestic violence order, there is information here for you.
Domestic Violence Orders are part of a strategy to protect the safety of all members of our community and to stop the violence.
https://www.courts.qld.gov.au/courts/magistrates-court/domestic-and-family-violence/domestic-violence-videos
---
 Queensland Police Service ... 
 Open Doors, Act Now, Break the Cycle Project
The new project, Open Doors. Act Now, Break the Cycle, was developed by Logan District Police and seeks to educate the CALD community in areas of domestic and family violence through the use of an educational video that has been translated into eight predominant languages in the Logan community: English, Arabic, Burmese, Farsi, Kirundi, Mandarin, Tamil and Vietnamese.
The video includes information on domestic violence, police involvement, court processes and support services and will be disseminated to the CALD community through local stakeholders including Access Community Services, MultiLink Services Incorporated and the Logan City Council.
---
Donate to the Elder Abuse Prevention Unit
Click the link below and choose "Elder Abuse Prevention" from the "I would like to make a donation to" drop-down list.
Definition
"Elder Abuse is a single or repeated act, or lack of appropriate action, occurring within any relationship where there is an expectation of trust which causes harm or distress to an older person"
The Elder Abuse Prevention Unit is funded by the Queensland Government and auspiced by UnitingCare Community.